Aug 6 2011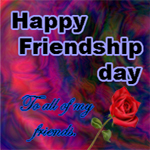 Dear Friends,
Today is a special day for me to say all of my friends "Wish you a very happy friendship day. May God fulfil all of my precious friend's wishes including me". This is because your immense support and love.
In the journey of our life we learn every day a new thing and behalf of these experiences we make ourself either happy or sad. But the most precious experience we get which gives us immense pleasure when we share our expression with one which we like the most and s/he not anyone else its your best friend who
*. Take care you at every moment of life
*. Understand you better than himself/herself
*. Always try to make you happy regardless of their own pain
*. Always encourage you for your betterment.
*. Like to see your smiley face always
*. Can't control himself/herself without sharing every bit of their life.
True love is the best example of friendship. Friendship is the one and only one relation which gets started when you give something special to someone without any intention of getting you back in the reverse. And this special thing comes to you in the form of help always . Your attitude of help gives you the power to get connected with your friends always.
So my dear friends !!! Do whatever you can do for your friends and today is the day where you must identify your true friend and Say "Happy friendship Day" and also pray to God "O God! Give me enough power so that i can always make happy to those who have trust on me".
Related posts:
The following two tabs change content below.
Chandra Shekhar Pandey is Google certified Cloud engineer, I am Magento2 Trained developer. Having huge experience in designing cloud solution. I have around 12 years of experience with world enterprise IT companies and fortune 500 clients. During my architecture design I am always caring about high availability, fast performance and resilient system. From the programmer background I have huge experience in LAMP stack as well. Throughout my carrier I have worked on Retail, E-Learning, Video...
Read More about Chandra Shekhar
Latest posts by Chandra Shekhar (see all)