TOP 5 PHP based Ecommerce Solutions
If you are looking for an ecommerce solution then, the million dollor question you might have which open source solution I should opt for my website. Today I will show a comparison of top 5 PHP based open source.
What is current trend ?
Before we go with any conclusion about which one are the top 5 ecommerce CMS . Lets see couple of trends.
Trend from BuiltWith for top 10K Websites (Jan 2016)
Trends based on research from Aheadworks (Oct 2015):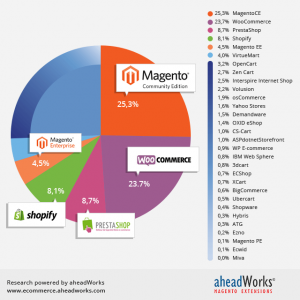 Conclusion based on trends:
Based on above couple of trends its clear that top 5 PHP based Ecommerce CMS are listed below:
Magento Community
Woocommerce
Magento Enterprise
OScommerce
Drupal Commerce
In order to help you further to get a better idea for choosing perfect Ecommerce solution for your product. Lets see a comparative analysis with my personal recommendation of these Top 5 PHP based Ecommerce CMS .
| Name | Feature | Framework | Initial Release | License | Recommandation |
| --- | --- | --- | --- | --- | --- |
| Magento Community | Magento Commerce is the leading provider of open omnichannel innovation. Our open source digital commerce platform and cloud-based omnichannel solutions empower merchants to integrate digital and physical shopping experiences. | Zend | 2008 | OSL Ver. 3 / AFL Ver. 3 | Perfect for any ecommerce solution. But you must have a good server infrastructure and knowledge about hanling things from magento admin. |
| Woocommerce | With 11,875,450 downloads WooCommerce powers over 30% of all online stores. | WooFramework | 2011 | GPL | Very easy from admin side,easy to customize, huge commynity support and highly scalable and customizable. Can be hosted on shared server itself. |
| Magento Enterprise | The high performance, scalable digital commerce solution for fast-growing and large businesses. | Zend | 2008 | OSL Ver. 3 / AFL Ver. 3 | Again Perfect with lots of in built feature to imporver performance and functional improvements but you should be ready to pay for it. |
| Oscommerce | Commited to Open Source to foster a strong and growing worldwide community engaged in our achievements.Our growing community of over 280,000 store owners, developers, and service providers are there to help you at every stage of running your online store and business. Over 7,000 free Add-Ons have been uploaded by the community to use and customize your online store with. | OSC Framework that is coded with (PSR 2 coding style) | 2000 | GPL | Very easy from admin side,easy to customize, and highly scalable and customizable. Can be hosted on shared server itself. |
| Drupal Commerce | Drupal commerce is built for truely flexible ecommerce websites and applications based on drupal | Drupal Commerce framework. Requires the NMI-PHP library | 2011 | GPL | It has their own way to handle product. As a framework its more robust. So its highly flexible. But its little heavy from development perspective in comparison to woocomerce/oscommerce. |
What are the Top 5 important things to consider while selecting your ecommerce for your product:
i) Always take best framework and make sure it has good community support available.
ii) Make sure your developer has good knowledge about that framework.
iii) You application should be flexible and scalable.
iv) It should have high performance .
v) Should be easy to manage from admin section and maintain from development perspective.
The following two tabs change content below.
Chandra Shekhar Pandey is Google certified Cloud engineer, I am Magento2 Trained developer. Having huge experience in designing cloud solution. I have around 12 years of experience with world enterprise IT companies and fortune 500 clients. During my architecture design I am always caring about high availability, fast performance and resilient system. From the programmer background I have huge experience in LAMP stack as well. Throughout my carrier I have worked on Retail, E-Learning, Video Conferencing and social media domain. The motive of creating cutehits was just to share the knowledge/solutions I get to know during my day to day life so that if possible I can help someone for same problems/solutions. CuteHits.com is a really a very effort for sharing knowledge to rest of the world. For any query/suggestion about same you can contact me on below details:- Email: shekharmca2005 at gmail.com Phone: +91-9560201363
Latest posts by Chandra Shekhar (see all)