Dec 20 2012
Step 1. Login to admin section
Step 2. Go to "Promotion tab" coming under main menus
Step 3. Click on "Shopping Cart Price Rule" from their menu options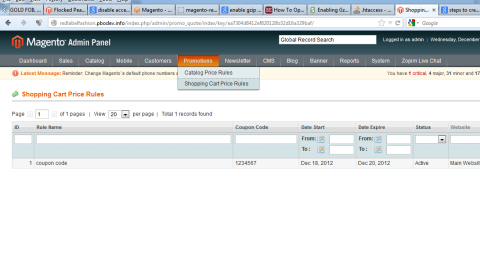 Step 4. You will see a manage page there . Now click on "Add New Rule" button
Step 5. Now fill the form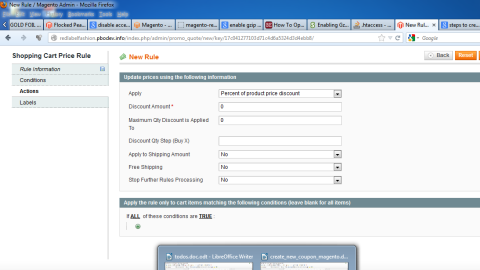 Step 6. Now fill other forms coming under right side tabs which are
a) Rule Information: Fill necessary info about coupon
a) Conditions: If you want to add specific condition for applying coupon
b) Action: Update price used for this coupon.
c) Labels: You enter your discount label. Eg: Summer Discount.
Step 7. Based on your requirement just fill the form and click on save button.
Now you are done . Please check it from cart pages and your coupon code will start working
Keyword: create a new coupon code using magento, magento coupon code creation, Add a new price rule in magento, Magento coupon integration
Related posts:
The following two tabs change content below.
Chandra Shekhar Pandey is Google certified Cloud engineer, I am Magento2 Trained developer. Having huge experience in designing cloud solution. I have around 12 years of experience with world enterprise IT companies and fortune 500 clients. During my architecture design I am always caring about high availability, fast performance and resilient system. From the programmer background I have huge experience in LAMP stack as well. Throughout my carrier I have worked on Retail, E-Learning, Video...
Read More about Chandra Shekhar
Latest posts by Chandra Shekhar (see all)